Home »
Mega Yacht Cruises
Mega Yacht Cruises
Explore the hidden gems larger ships can't reach. Savour the attention to detail that makes every moment a delight. Bask in the exclusivity of mega yacht sailing.
It feels like your own private yacht – and with only dozens, rather than hundreds or even thousands on board – it very nearly is. This is the world of mega yacht sailing – where describing the experience as 'luxury' is a gross understatement, and where your every need seems almost telepathically met.
0800 810 8482

The mega yacht experience
It's the little details that make a very big difference – and make mega yacht cruising a cruise like no other. From the welcome aboard cocktails to reception dinners. From 24 hour room service to raised sunbeds that keep you in full sunlight while your orders are being taken and your poolside sandwich is served, this is a nautical adventure with an emphasis on style and glamour.
Enjoy coffee with the captain. Tackle water sports from the stern. Mingle with your fellow travellers or enjoy the tranquillity of the observation deck. A mega yacht cruise is an opportunity to sail in the finest comfort, whilst enjoying a level of service beyond even the most prestigious cruise ships.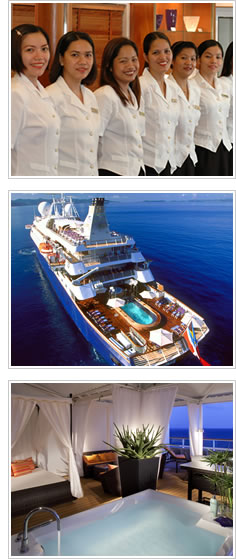 Mega yacht dining
Dining on board your mega yacht is a matter of doing whatever you feel. In-room or alfresco. Poolside or restaurant, you'll enjoy the freshest food prepared to the highest standards. You may even be able to accompany the chef on a shore-side shopping expedition.
Mega yacht accommodation…
…Is as sumptuous as you'd expect, and then some. All en-suite (of course), always with sweeping ocean views; frequently with verandas. Each spacious stateroom is thoughtfully appointed and tastefully decorated to create a peaceful retreat from life on deck, or the perfect place to entertain.
Typical in-room facilities include TV, DVD player, iPod docking station, mini-bar, personalised stationery, fine linen and 24 hour room service.
Typical entertainment facilities include gourmet restaurants, swimming pools, steam rooms, Jacuzzi, gym with fitness classes, and open bars. The yacht's marina will host sports from water skiing to wake-boarding, while shore-side activities typically include bike hire, kayaking or snorkelling.
Mega yacht cruising destinations
Because mega yachts can dock in smaller ports, you enjoy a more authentic travel experience. Destinations are carefully chosen to ensure the places you visit deliver more than a rote selection of tourist experiences. Real people. Real places. And discoveries awaiting in every port that still have the power to surprise and delight.
Mega yacht cruising with Small Ship Cruise Experts
We'll let you in on a small, but rather crucial point. Mega yacht cruising sounds like the preserve of the wealthy elite. But unlike many cruises, once you book a mega yacht cruise, everything is included – your food, your drinks, your on-board activities; even the gratuities.
It means a mega yacht cruise is far more affordable than you might think. And Small Ship Cruise Experts know how to find the perfect experience for you and your pocket.
Call us on 0800 810 8482 or use our mobile-friendly number: 01253 340 912 and discover why, time and again, people recommend Small Ship Cruise Experts.
Cruise Lines
You can also view details of our mega yacht partners by selecting a cruise line below.
Come aboard a SeaDream yacht and discover just how different it is from big ship cruising. With just 55 privileged couples, it is intimate; the pace is relaxed or active as you want, the service is incredibly personal and the entire SeaDream experience is one unlike any other. SeaDream is one of the largest mega-yachts in the world and our amenities are second to none. Be pampered in our full-service Asian spa, play a game of backgammon or surf the web in the Library. Do a little shopping in the Sea Dream or join some friends for a movie in the Main Salon...
Seabourn is a company that provides ultra-luxury cruises on small ships to the most desirable destinations in the world. In the 25 years that Seabourn has served its guests, it has consistently been rated not only among the top cruise lines, but also among the world's premier holiday choices. The key features that set Seabourn apart from other cruise lines are: A superior level of personalized service made possible by our smaller ships. Elegant, spacious all-suite accommodations. Superb cuisine served in a style matching the finest restaurants ashore. Exceptional delivery of a wide variety of intriguing destinations...