Six Star Cruises
More space. More activities. 'Big ship' comfort and amenities in the relaxed intimacy of a small ship experience. And above all, a level of quality you'd be hard pressed to better on land, let alone at sea. Discover the world of six star cruises where, from dining to travelling to relaxing, every element is a cut above.
'Luxury' is an overused phrase. When everything from a floating city to a clipper boasts extreme levels of luxury, how do you find the cruise where standards really are exceptional? At Small Ship Cruise Experts, you'll find mega yachts and tall ships which are, by any standards, luxurious. So it takes something particularly special to be worth of our six star accolade.
0800 810 8482

Six star cruising – 'luxury' is just the starting point
There's something extremely liberating about having your own waiter or butler – someone who makes decisions easy, so you can simply enjoy.
On a six star cruise your every need is met almost before you realise you need it. Your every preference is remembered and acted upon – so your coffee arrives exactly how you like it, and that Sancerre you've fallen in love with always arrives at just the right time, and always perfectly chilled.
From deck to bar to restaurant, meet the fellow travellers who frequently become lifelong friends, or enjoy the peace and solitude of a good book and a fine cognac as the sea slips by.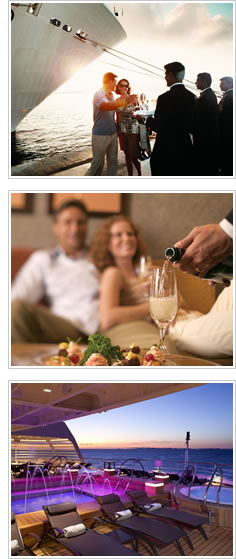 Six star dining
Dine with friends. Dine alfresco. Dine in any of a multitude of restaurants. Wherever you choose, six star dining is something to relish. The dazzling choice of wolrd-class dishes are created using only the freshest ingredients, many sourced at destinations en route. You may even be able to accompany the chef on a shore-side shopping expedition.
Six star accommodation
Every impressively spacious stateroom enjoys a sea view. Most have verandas which allow you to sample the sea air simply by stepping through the door. Each room is thoughtfully appointed and tastefully decorated to create a peaceful retreat from life on deck, or the perfect place to entertain.
And from personalised stationery to fine wines, complimentary movies to your choice of pillow, every last detail is anticipated and delivered to perfection.
Insider knowledge for a more personal experience
Aboard our six star small ships you'll find people who can make more of your travel experience. They are the people who can immerse you in the history of your next port of call, or help you find the best sights, shops and eateries away from the tourist trail.
They'll arrange a romantic hot air balloon ride over plains and valleys. They'll book the most sought-after tables and tickets in town. They'll take you on a guided tour off the beaten path and arrange the excursions that bring travel to life. Whether your ambition is the quintessential sightseeing trip, a day of romance or the perfect souvenir, they'll help you find it.
Six star cruising with Small Ship Cruise Experts
It may sound like the preserve of the ultra-rich, but six star cruising with Small Ship Cruise Experts is far more affordable than you might think. That's because, unlike many cruises, a six star cruise includes your food, your drinks, your on-board activities, even the gratuities. And Small Ship Cruise Experts know how to find the perfect experience for you and your pocket.
Call us on 0800 810 8482 or use our mobile-friendly number: 01253 340 912 and discover why, time and again, people recommend Small Ship Cruise Experts.
Cruise Lines
You can also view details of our six starship cruise line partners by selecting a cruise line below.
The ships of Regent Seven Seas Cruises offer voyages of exploration and discovery to more than 300 ports on all seven continents. Our luxury vessels are designed for guests numbering in the hundreds rather than the thousands. The ambiance on board is personal, individual, accommodating - "upscale but not uptight." And all ships share certain distinctions in accommodations, service, dining and amenities that elevate them to the lofty vantage point of our enviable six stars...
Seabourn is a company that provides ultra-luxury cruises on small ships to the most desirable destinations in the world. In the 25 years that Seabourn has served its guests, it has consistently been rated not only among the top cruise lines, but also among the world's premier holiday choices. The key features that set Seabourn apart from other cruise lines are: A superior level of personalized service made possible by our smaller ships. Elegant, spacious all-suite accommodations. Superb cuisine served in a style matching the finest restaurants ashore. Exceptional delivery of a wide variety of intriguing destinations...
Silversea Cruises presents sumptuous ocean-view suites and the luxurious freedom of an all-inclusive lifestyle. Distinctive European styling is reflected in every detail, from uncompromising service to exquisite gourmet dining. Intimate spaces and well-travelled, international guests foster a convivial onboard ambience. And in each fascinating destination, Silversea provides access to exclusive explorations and uniquely enriching cultural connections...